Hi, I'm Buckebon, the bureaucrat of the Mouse Guard Wiki.
I've been a part of this site since early 2011, and took charge in the July of that year. I went on a long hiatus from both Mouse Guard and the Wiki during my university years, but I'm back now and committed to getting the Wiki into tip-top shape.
My current project is going through the books chronologically (roughly Black Axe, Baldwin, Fall, Winter, Legends 1-3) and making sure every book/issue, character, location, species, event etc. each is properly detailed on the Wiki. I'm hoping to be at least up to the Legends volumes by the time Weasel War is released — we'll see whether David Petersen keeps me on my toes in that regard!
I have digital copies of all the books (bar the RPG), so let me know if I can screenshot any high resolution images for any articles you're working on; and feel free to hit me up on my wall if you want to chat Mouse Guard, it's quiet here.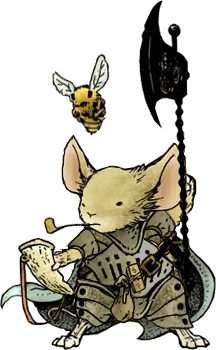 Community content is available under
CC-BY-SA
unless otherwise noted.