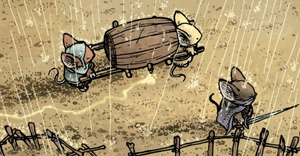 The Scent Border is the boundary marking the border of the Mouse Territories. Comprising a long stick fence supplemented in places by a row of low rocks, the Scent Border is not of itself a defensible perimeter. Rather, a repellent mixture which is poured along the boundary itself repels larger animals away from mousekind.[1]
The scientists of Sprucetuck concoct the repellent mixture, and the Mouse Guard repour it at least twice a year. This task is one of the most vital carried out by the Guard, so its execution is placed into the paws of only the most trusted patrols.[1]
Many mice do not even know of the Scent Border's existence, and only a few living mice have ever gone beyond its boundaries.[1]
References
Edit
Community content is available under
CC-BY-SA
unless otherwise noted.