The internet's most complete database for David Petersen's award-winning Mouse Guard Book Series, which anyone can edit.
205 articles since opening on January 24th, 2010
Mouse Guard is a critically-acclaimed comic book series written and illustrated by David Petersen, and published through Archaia Entertainment. Each entry in the Main Series is six issues long and published as a hardcover book complete with covers, guides and assorted extras. So far, two hardcovers have been published; Fall 1152 and Winter 1152, with the third volume The Black Axe already onto its fourth issue. An anthology mini-series, Legends of the Guard, has also been published, with a second volume expected sometime in 2013.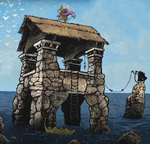 Frostic is a small outpost built on the shores of the North Sea. Primarily used as a watch tower for the Mouse Guard, Frostic enables sentry mice to spot incoming threats from the seas with ease. As of the Fall of 1152, Frostic consists of a stone pier, a bell and a single underground room chamber. Notable Guardmice, such as Celanawe, Loukas and Sadie have been appointed at Frostic over the seasons.

Loukas was assigned to watch over the outpost of Frostic after his mentor, Celanawe, was sent away on a vital mission. At one point in his life, the mice of Willowroot presented him with a magnificent sword as a reward for his bravery.
Community content is available under
CC-BY-SA
unless otherwise noted.