A database for David Petersen's Mouse Guard series, which anyone can edit.
218 articles since opening on 24 January 2010
Mouse Guard is a critically-acclaimed, all-ages series of graphic novels created by American author/illustrator David Petersen, which is currently published through Archaia Entertainment. Entries in the main series are six issues long and are eventually published as a hardcover book complete with covers, guides and assorted extras. Thus far, two hardcovers have been published; Fall 1152 and Winter 1152, with the third volume, The Black Axe, already onto its fifth issue. An anthology mini-series, Legends of the Guard, has also been published, with a second volume of spin off-like tales expected sometime in 2013. A Role-Playing-Game based of the world of Mouse Guard was released in late 2008, featuring an engine created by Luke Crane and original illustrations by Petersen himself.
Which is your favourite book in the Mouse Guard series?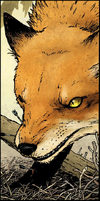 Foxes are a species of animal present in the Territories. They are smaller than coyotes and wolves and tend to live by their wits. Solitary creatures, except when seeking mates or rearing pups, foxes are very dangerous to small creatures, such as mice - which, incidentally, are part of their preferred diet.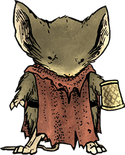 Tristram was a male mouse and a member of Mouse Guard. He spent the majority of his early career as a Guardmouse patrolling the northern settlements, but moved south after his heart was broken. During the June Alley Inn Storytelling Competition of 1154, Tristram shared a story from those patrols with the mice of Barkstone.