Conrad was a male mouse and a member of the Mouse Guard. Although originally a sea-faring mouse, Conrad joined the Guard at an unconventionally older age than most Tenderpaws.[1] After an assorted a life of adventure on his own terms, the peg-legged mouse offered what services he could to the Guard. Preferring the solitary life, Conrad was stationed at Calogero, a seaside outpost, and stayed there until his death.[2]
Biography
Edit
Quest for the Axe
Edit
Midnight's Rebellion
Edit
"Speak if yeh wish to keep yer life!"
―Conrad surprises Sadie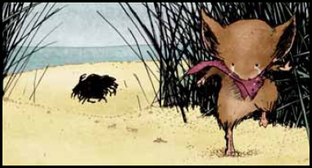 "Take what yeh know to Lockhaven!"
―Conrad
The following morning, Conrad awoke to find Sadie had cooked him soup for breakfast. The younger mouse informed him that he had slept through the entire night, and told him that she had been sent by Gwendolyn to investigate why there had been no ongoing communication from the outpost in months. She then asked why he had threatened her, and he told her about the meeting of the traitorous mice.
Sadie planned to retrieve Conrad's body from Calogero, but she was stopped by Gwendolyn and forced to wait until winter had passed. It is unknown whether she succeeded in finding it.
The epilogue reveales that Conrad died by being impaled by a crab's leg, not being crushed in a pincer as was believed.
Community content is available under
CC-BY-SA
unless otherwise noted.